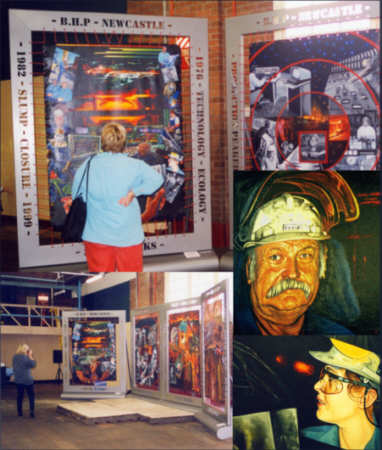 "Moving Murals"

4 acrylic and oil on canvas covering the history of B.H.P Steelworks, Newcastle, commissioned by B.H.P for the  "Ribbons of Steel" Festival and commemorating the closure of this industry as a steelworks in Newcastle. The frame was made by the employees' on site.

Each mural is 2500 v x 2000 w

1.  " The dawn of a new era" 1913 – Birth, War, Build, Depression 1934.

Key personel, Guillaume Delprat chairman (right figure).  D. Barker Designer.

Theme; the Blast Furnace.

2. " The Big Australian" 1935- Growth,1939 ,War, Peace, 1956. The eara of Essington Lewis. Team effort of pulling together to save Australia.

Theme Basic Oxygen Steelmaking Furnance.

3. "A Perfect Future" Boom 1963, Computers, Production Peaked 1975.

Theme Technology, Science, Rod, Bar and By-products.

4.Closure.1976 Technogy, Ecology, 1982 Slump, Closure,1999.

Theme: Coke Ovens and By-products, Diversity of Workforce, Friendship, Shutdown.

I love to use my Skills to relate and portray multi-layered visual stories. My range of mediums and practice's with examples of my work are displayed throughout this site. Murals are my speciality. Figurative work, genre, landscape, natural and industrial. Large scale paintings. Trade Union banners. Enduring environmental art-design - Conceptualized and site specific community based art work - Paintings - Portraits, public, family, business and community stories.Collaborative team work. Being a  supervising artist on Public art projects.Hand painted ceramic tile murals.I am able to work to the design brief and budget constraints when working with clients,communities,architects and interior designers.I have renovated 4 houses incorporating various paint techniques,ceramic tiles,door features,color co-ordination, murals outdoors,ceilings,walls. Mural consultancies, working with communities vie the Internet,helping with design,mural elements and fabrication techniques while the client works with their own artists to produce the mural on site is a new service. Adult+children's art classes are now on.

All images and stories by Birgitte Hansen are copyright