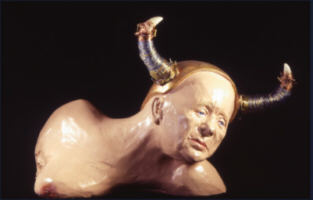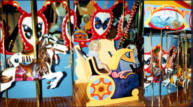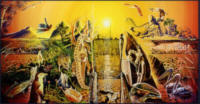 Sculpture is a late blooming domain for Birgitte and she has been developing this field in leaps and bounds over this past year (2003).

Paper mache', dough dolls and some casting has been her mediums of choice. The sympathetic and sensuous nature of working with paper and developing its ever increasing scope has made this a new fascinating area of work. Large scale figurative pieces are at present in development, suitable for outdoor use.

Birgitte would certainly be interested in communicating with other artists who are working in similar ways so as to consult and interact.

Etching, computer graphics, drawing, paper pulp, renovating houses, incorporating paint techniques, murals, ceramic tiles, features on doors, colour co-ordination, family history paintings, are just some of the activities she engages in.

I love to use my Skills to relate and portray multi-layered visual stories. My range of mediums and practice's with examples of my work are displayed throughout this site. Murals are my speciality. Figurative work, genre, landscape, natural and industrial. Large scale paintings. Trade Union banners. Enduring environmental art-design - Conceptualized and site specific community based art work - Paintings - Portraits, public, family, business and community stories.Collaborative team work. Being a  supervising artist on Public art projects.Hand painted ceramic tile murals.I am able to work to the design brief and budget constraints when working with clients,communities,architects and interior designers.I have renovated 4 houses incorporating various paint techniques,ceramic tiles,door features,color co-ordination, murals outdoors,ceilings,walls. Mural consultancies, working with communities vie the Internet,helping with design,mural elements and fabrication techniques while the client works with their own artists to produce the mural on site is a new service. Adult+children's art classes are now on.

All images and stories by Birgitte Hansen are copyright