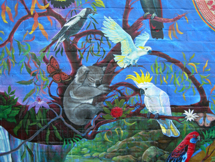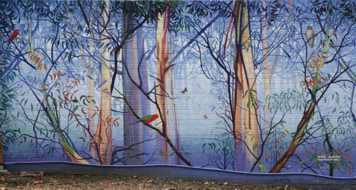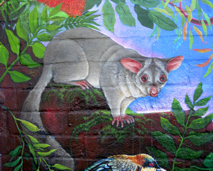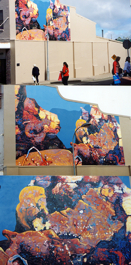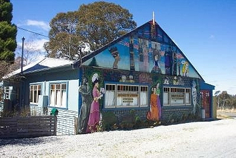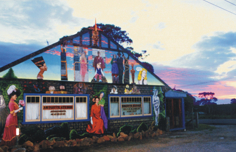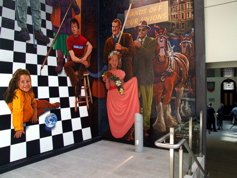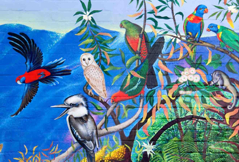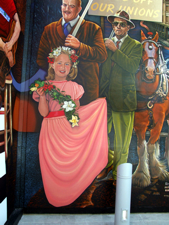 "Helter Shelter" a bus shelter at Glenbrook painted for the Blaxland neighbourhood centre and as part of "Living in Harmony".

2000    Internal mural at Eldon Guest House, Katoomba working with people with mental disabilities.

2001    "Mary quite contrary, how does your garden grow?"


   This has been part of a major project for me of Renovating my house and studio. I have

   renovated Four houses during the past 8 years.
2002    "Mountain Boulders" A Major Mural for Blue Mountains City Council. Katoomba St


   Katoomba.  Based on a painting by Rainis Zusters.
2006    "Reverence" A community mural at Waratah St, Katoomba. Designer and supervising                    artist.

2007    "Eight Hours" A major 8m x 8m triptych mural at the renovated Sydney Trades Hall for                  unions N.S.W

2008    "Misty Bluegum Forest" Blackheath Public School

I love to use my Skills to relate and portray multi-layered visual stories. My range of mediums and practice's with examples of my work are displayed throughout this site. Murals are my speciality. Figurative work, genre, landscape, natural and industrial. Large scale paintings. Trade Union banners. Enduring environmental art-design - Conceptualized and site specific community based art work - Paintings - Portraits, public, family, business and community stories.Collaborative team work. Being a  supervising artist on Public art projects.Hand painted ceramic tile murals.I am able to work to the design brief and budget constraints when working with clients,communities,architects and interior designers.I have renovated 4 houses incorporating various paint techniques,ceramic tiles,door features,color co-ordination, murals outdoors,ceilings,walls. Mural consultancies, working with communities vie the Internet,helping with design,mural elements and fabrication techniques while the client works with their own artists to produce the mural on site is a new service. Adult+childrens art classes are now on.