old Newcastle "Carrington" paintings page 1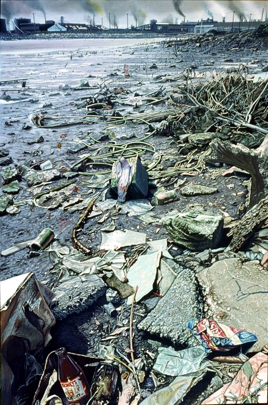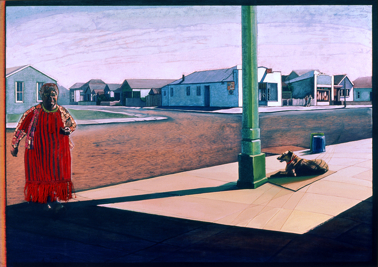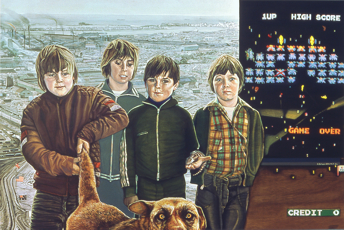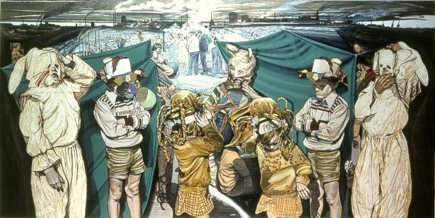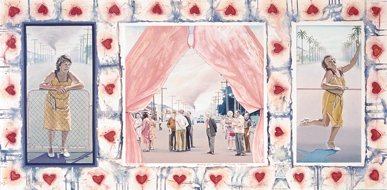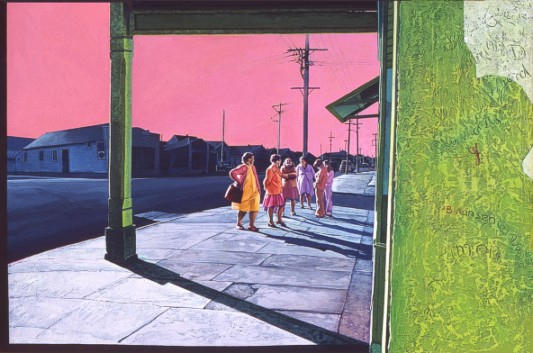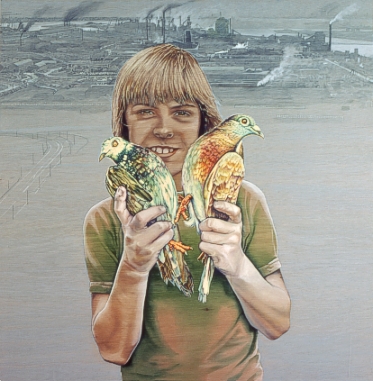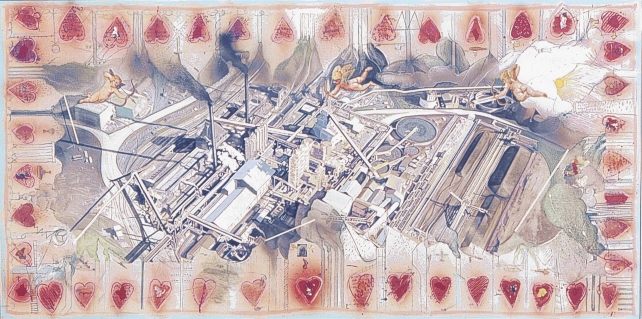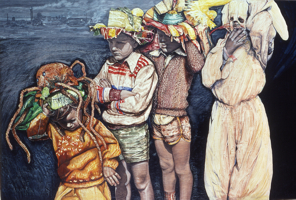 It's hard for me to realize that I started painting these Carrington paintings in 1977. I still feel they are  "The One's". I landed in Carrington in 1976 after some simple and relatively peaceful years of living on a farm at Pampoolah, near Purfleet, a  fringe aboriginal  township of Taree, a mid north coast town of NSW, Australia.

My then husband Allen had chosen the house as he had already been living in Newcastle, being a benefactor of Gough Whitlam's  (new Labor prime minister of Australia) and Clyde Cameron's education revolution. We had married very young, a unplanned pregnancy, came from poor working class families and both had to discontinue our education. Education was not free and scholarships were rare. So with a 5 year old son Simon, in tow we had been given another opportunity , a generous living allowance and free education. The equivalent of winning a lottery ,which we embraced and never looked back from. After a childhood growing up on Parramatta Rd, Burwood and inner Sydney living, the farm had been a time to consolidate and enjoy nature. Carrington, then, was like landing in the old factory towns of Victorian England. Rough, tough, dirty, isolated on "The Island", mud flats built up from the ballast of old sailing ships. It was nestled between the state dockyards, wharves, shipping and the wheat silos at one end and coal loading and BHP steel at the other. It had a long proud history, the men either went to sea; or went to work at the steelworks. You even had to cross a little bridge to reach the city of Newcastle, symbolically and literally. For a small village it had had its own picture theatre "The People's theatre" Australia's only communist mayor, a beautiful small council chambers, and many pubs. One end was known as "Texas" in the Aussie colloquium because it had been a camp for the homeless and unemployed  during the Great Depression and had been build from the stolen timbers of American ships by the local wharfies. The era reflected the history of "The Hungry Mile' in Sydney. The house we moved into was a pair of  high ceilinged 2 story timber terrace 100 year old shop fronts. We eventually brought both of them and made the shop fronts and one house into studios. I had a love -hate affair with "my little Town' for 22 years and by the time I left in late 1998, gentrification had started. "Building Better Cities" a Labor Gov. initiative had built a new eclectic many lights bridge, dredged the old heavy metal polluted  Dora Creek as in above painting, started a new mixed housing stock and I'm proud to say I was a foundation member of  Carrington Residents Group. We fought the good fight, stopped intrusive industrial building were now residents and parkland exists and protected the unique residences, wide streets and working class history. The paintings above were from my front window, my son and his school mates, their "pets" my neighbors going across the street to the old orange dilapidated " School of Arts" to play "Bingo" "The postcard from Carrington" reflected my cynicism about the promise we'd been made about redevelopment, tomorrow we'll all be in Hollywood. Carrington is also blessed with some remaining stands of  Palm trees. The painting "Many broken hearts" was part of a series of  paintings I'd made about BHP, a seemingly omnipresent  unmoving untouchable Monmouth at the end of Young St.  I painted the hearts to reflect my own broken heart and for all the worker's  hearts who disappeared inside everyday and to try to humanize my impression of  the place, my very own fantazied hell as civilians were no longer  allowed inside on tours.  Newcastle, I felt had been held hostage by the Company, pollution from the steelworks and coal loaders was so bad, on days you had to shovel the coal of  your door steps. I had a friend clean out my ceiling space and he shovel out the coal dust for days. Women had told me you used to check outside to hang clothes out to dry, not only for rain but how bad the dust was, or your clothes came in black. For us the housing was affordable, it gave me space to work ,space to have a open studio in the neighborhood, a old wooden church hall on the other side of the street, next to the post office with its stain glass windows,  where we had 2 exhibitions showing back our paintings, drawings and Allen's photographs of our shared lives. It was also tough and I felt eventually trapped, I had arrived as a fresh eyed outsider, astonished and also feeling I was back to what I'd grown up with. As a migrant I was blessed and cursed with the outsider inner eyes, and this duality of wanting to belong but standing outside was my companion during these years. I had achieved a lot during my Carrington years, became very high profiled, had nation and international success with my Trade Union banners, was a foundation member of Newcastle Printmakers Workshop, Newcastle Community Arts Center,  a working member of  "Workers Cultural Action Committee" a sub committee of Newcastle Trades Hall..

We both worked very hard to achieve and make a difference to our lives and our community, but  we divorced in 1984.  Allen is now Professor Chawner and head of Photography at Newcastle University, he remarried and had 2 more children. I never remarried. Our son Simon had a difficult time, this was his childhood, and the duality often made him a target of bullying. We eventually sent him out of town to a small  farm like Steiner school. Today he is a husband and father to 2 lovely girls, lives at Lake maquarie in a suburban development and works as a Sheet metal worker and has union interests. I found that after he left home I was the last one standing, I felt there was no magic left, and did not want to live the rest of my life in trying to recreate  what was gone and it was too sad and to unchallenging to keep myself in "That place" and as everything changes so must I. I moved to the Blue Mountains in 1998 and ironically was part of a huge "Farewell" arts festival called "Ribbons of Steel" for the closing down of Newcastle BHP Steelworks in 1999. I finally got inside the monster, had access to old photos, visited the last days of the foundries, stood before burning fires, marveled at the size, the history,  the quality of workmanship in building the huge furnaces, the rivets,  the men like ants constructing the industry, the vision of the master steel makers, the history of thousands of men and women of steel.  extraordinary men like Essington Lewis, to the photographs of Frank Hurley. I ended up painting 4 "Moving Murals" each panel reflecting a particular era and found I'd come full circle and wanted some nature again, hence "The Blue Mountains" a place which can help show us how to live better with nature and heal .                             .

"Greetings from Carrington"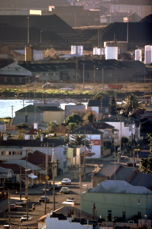 photograph of carrington from just before my house to BHP. Allen Chawner photographer. about 1978-9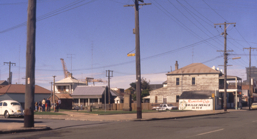 Rosedale cafe app.1976 -8 Allen Chawner photographer. Our house.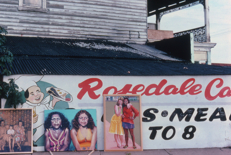 I love to use my Skills to relate and portray multi-layered visual stories. My range of mediums and practice's with examples of my work are displayed throughout this site. Murals are my speciality. Figurative work, genre, landscape, natural and industrial. Large scale paintings. Trade Union banners. Enduring environmental art-design - Conceptualized and site specific community based art work - Paintings - Portraits, public, family, business and community stories.Collaborative team work. Being a  supervising artist on Public art projects.Hand painted ceramic tile murals.I am able to work to the design brief and budget constraints when working with clients,communities,architects and interior designers.I have renovated 4 houses incorporating various paint techniques,ceramic tiles,door features,color co-ordination, murals outdoors,ceilings,walls. Mural consultancies, working with communities vie the Internet,helping with design,mural elements and fabrication techniques while the client works with their own artists to produce the mural on site is a new service. Adult+children's art classes are now on.

All images and stories by Birgitte Hansen are copyright