web pages currently being updated.

Click on any image to enlarge


Wentworth Falls Bus Shelter

2009

It is the 20th of April today and I finished this project on Friday. The actual painting was finished on Thursday the 16th. It was commissioned by the Blue Mountains Council to replace a earlier painting of the Wentworth Falls by a then local artist who now is believed to reside in the  Byron bay area and is in his 80'S. Oliver Lloyd ? need to find out more so if anyone has this information? The weather was typical mountains, I undercoated then waited nearly 2 weeks for the rain to stop and the foundation to harden. I painted it over the Easter break with lovely sunny days, rain again then finished of in a mini wind storm. The public was curious with good comments with the older men say graffiti so what can one say, its up to the community to look after it when I finish, and it is outside of my control. I used a paint bonding compound as the site had previously been painted with anti graffiti lacquer which is impossible to remove and painted the mural in acrylic artists quality. It has been sealed with artists gloss varnish, another coat of spray anti UV varnish and a final bees wax varnish which is the coat to be "lost" if it is attacked and can be  cleaned with turps then rewaxed. So we will see, it is in a heavy used area, close to the shops and were the public leaves the train station. I became brave in the painting and had the main picture established in 1 day.I worked from several photos and did the design in my computer and did a broad grid pattern. I really enjoyed just attacking the main image using sponges, plastic wrap and large brushes. a basic drawing was done with chalk. I then drew in details with washes and brush strokes using purple, magenta and deep blues. The mood was created by inserting the mists and using the ground foundations and mist to push the viewers eyes around the painting. I went back to tight work with the bird which took about 2.5 days and annoyed me as I really enjoyed the broad free painting. I had been looking at the early landscape paintings at the art Gallery of NSW during the wet down time and was influenced by these. I did learn a lot about myself and just letting go rather then tighten up and will bring this forward to my other work. At the moment I am doing a "tight detail image" for a commission and after 3 days works have painted a tinny area in time comparison and find I am bored and feel like a slow photo machine and don't want to do this sort of work unless its paid work. The human braveness of attacking and just going for it using your knowledge to control but allowing happy accidents and gestalt movements, more fun and more exciting artmaking. Who says you can't keep learning. P.S I did have to put up a sign while painting this "I do not live here I am working and do not give directions" Being a public holiday people from Sydney got off the train and asked me as I was painting the Falls and the first person they saw" How get to Falls?" about 100 people a day drove me crazy, broke my concentration, so sign was good , I don't mind talking about work or answering some questions but to many and no work gets done. Loll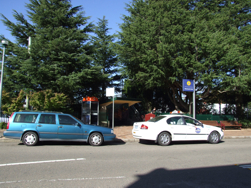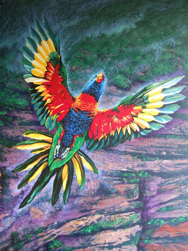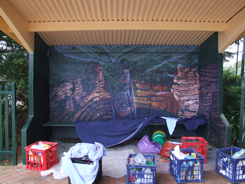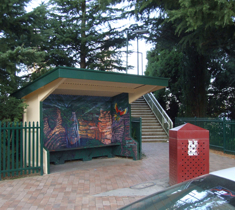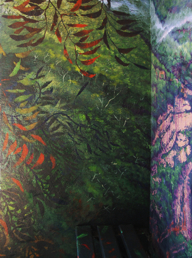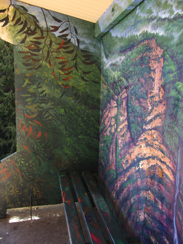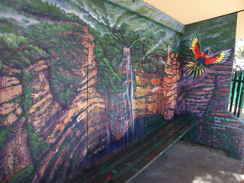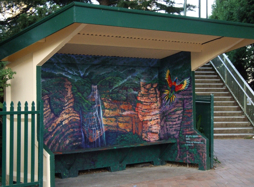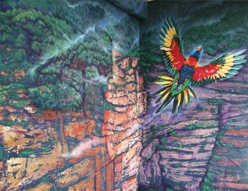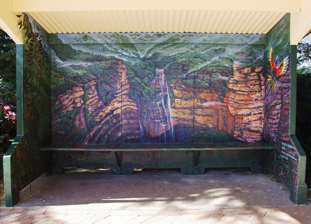 On the third day of painting.Drop sheets and a system of transporting paint from car to site.

I love using pre mixed colors in tubs and milk crates which you can store, transport, stand on and sit on during work time.

The surrounding environment and my blue car, a station wagon is the ideal car for working